How to Create A Spacious Living Room
Interior Design
Your living room is one of the most important rooms in your home. It's where you spend time socialising as a family, relaxing and entertaining friends.
For this reason, it's essential to make the most of the space and create a room that feels spacious and comfortable for the whole family.
Our interior designer Sarah Davey is the creative arm of Davey Construction and specialises in creating rooms that suit your individual needs and she knows exactly how to get the most out of every space.
Here are Sarah's tips on how to make even the smallest living room feel spacious.
Declutter 
It's time to let go of the clutter!
We know it can be hard to let go of things you've been collecting over the years, but removing clutter is the first step to creating a more spacious living room.
When you're fighting for space in an already small room, it's important to think about how you use the space and de-clutter as much as possible, only keeping items that add value.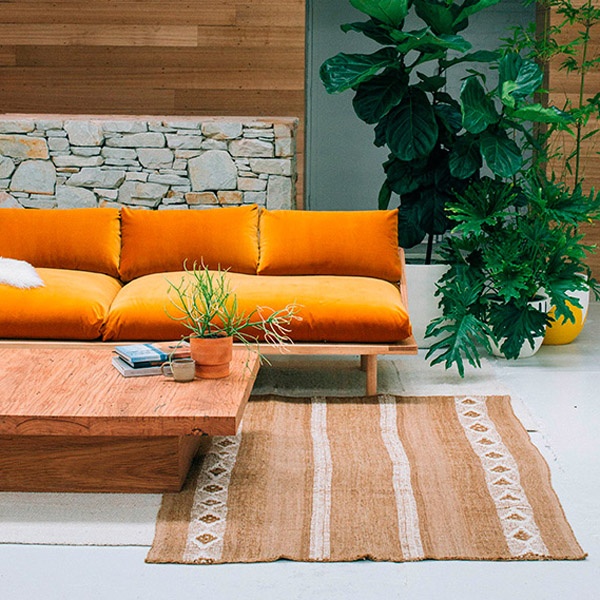 Smart storage solutions
If you can't bear to part with certain items, consider incorporating some baskets or other smart storage solutions such as vertical shelving or furniture that doubles as storage to hide possessions out of sight and free up floor space.
Don't be afraid to reach your shelves right up to the ceiling, it makes a great focal point and a fantastic way to display the items you love.
We highly recommend custom joinery to add extra storage space, enhancing the individuality and personality of your living room while creating a smart storage solution.
When you work with Davey Constructions, we can help you design a solution that will suit your space and the needs of your family.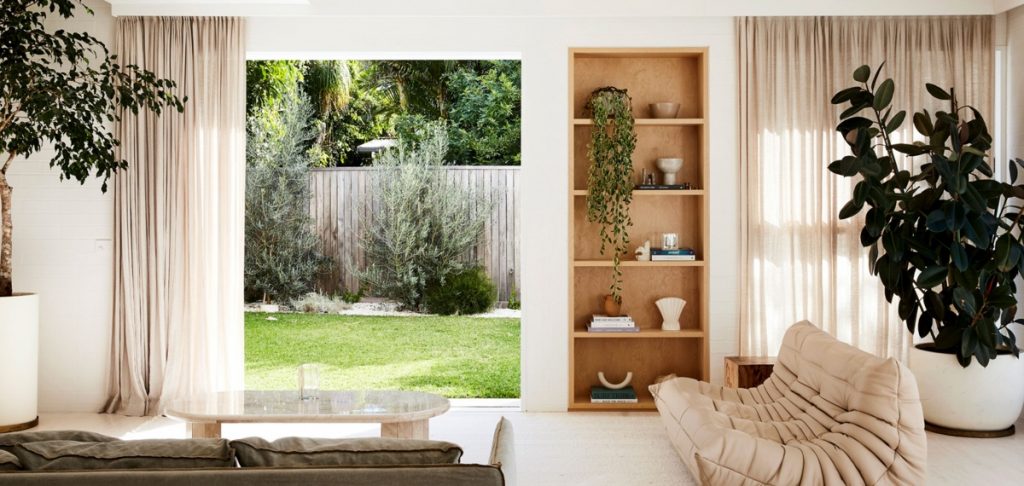 Minimal furniture
The furniture in your living room should suit the space. For example, in a smaller room always avoid big, heavy lounge suites, dining tables or chairs.
Be as minimalistic as possible and carefully consider the placement of each piece of furniture. If you're lacking in space, round coffee tables or ottomans allow for better traffic flow and a suitably sized lounge suite will let you walk around freely without having to squeeze through small spaces.
Also don't overcrowd your living room with too much furniture. Prioritise which pieces of furniture are the most important for the room, then work backwards.
While large furniture may not work to make a living room more spacious, oversized rugs are a great way to make the room appear larger. Using multiple smaller rugs will only make the room appear smaller.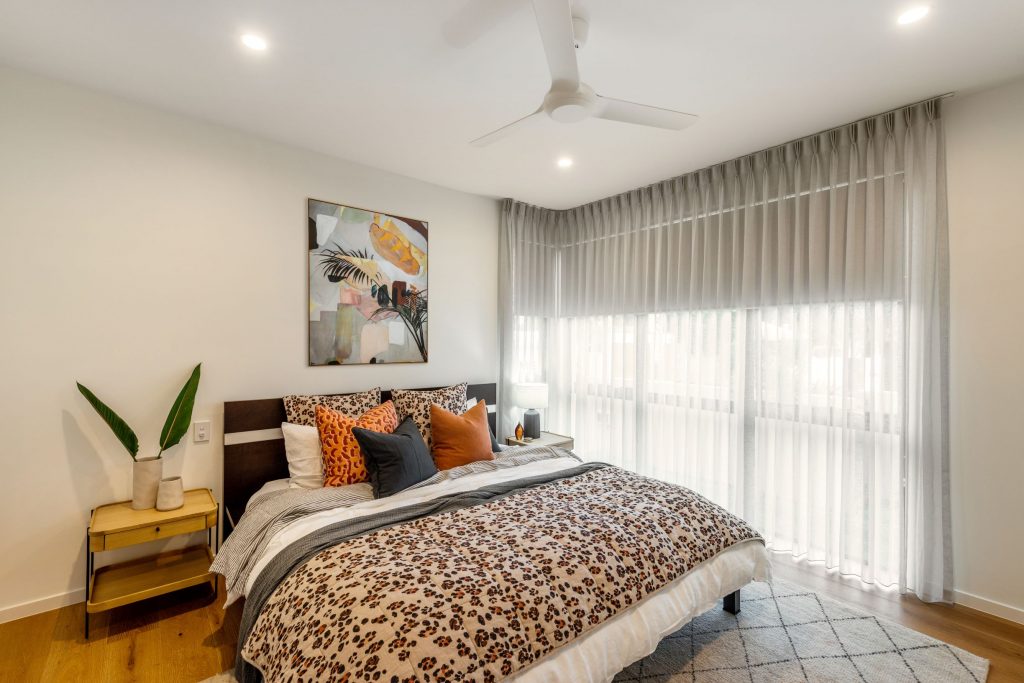 Choose the right colour scheme  
Paint colours aren't only useful for lifting the mood of a room, they can also make your living room appear bigger or smaller, depending on the colour and where it's placed.
Cool, lighter colours harness natural light and will open up your room. But that doesn't mean you need to rule out colour altogether, just use it wisely to ensure you're not closing in the room with the wrong tones.
Here at Davey Constructions, you're in good hands with Sarah,  she is the expert when it comes to designing beautiful interiors and will point you in the right direction to ensure you choose the right colour scheme for your living room.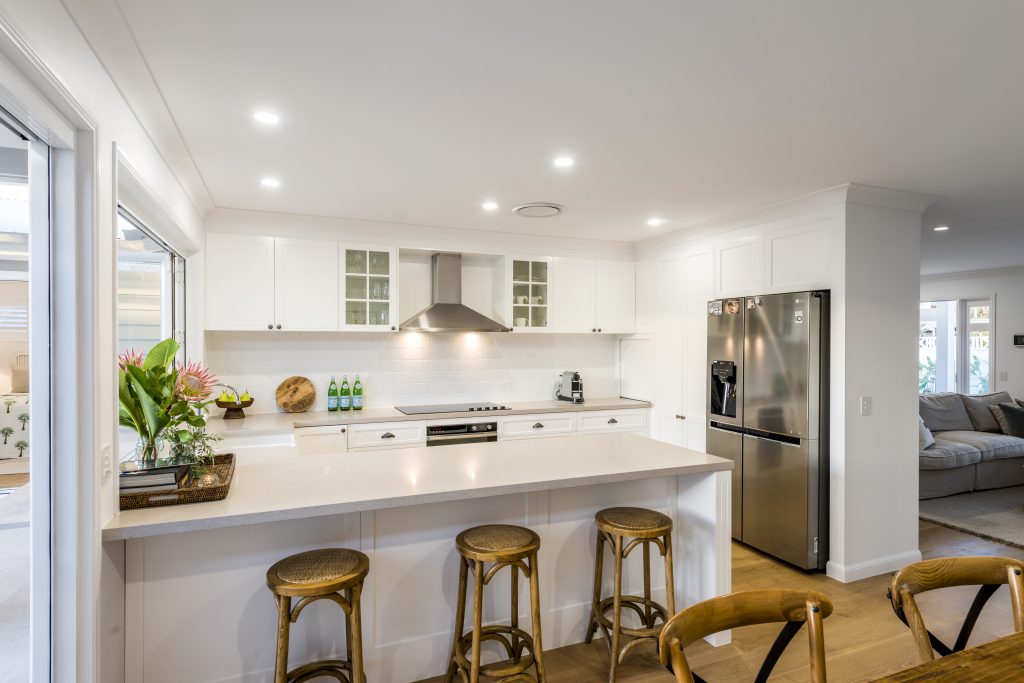 Get creative with your lighting
Natural light is best to create a sense of space in your living room. Let in more light through large floor to ceiling windows or high raked ceilings.
For artificial lighting, altering the levels and heights of lighting throughout the room will create a sense of space and make the room appear larger. Think floor lamps to light up dark corners and hanging pendant lights to highlight different areas of the room.
It's important to consider the types of window coverings so you're opening up the room as opposed to closing the space in and making it appear smaller. High hung curtains are also another way to create the illusion of more space in your room as well as timber shutters that can be folded back to let in more natural light.
These are just a few ways to create a spacious living room. We're one of the Gold Coast's leading builders, specialising in custom new builds and high-end renovations.
If you'd like to have a chat and find out how Davey Constructions can help you create your dream home, contact us today!