5 Burleigh hotspots with interiors to swoon over
5 Burleigh hotspots with interiors to swoon over
News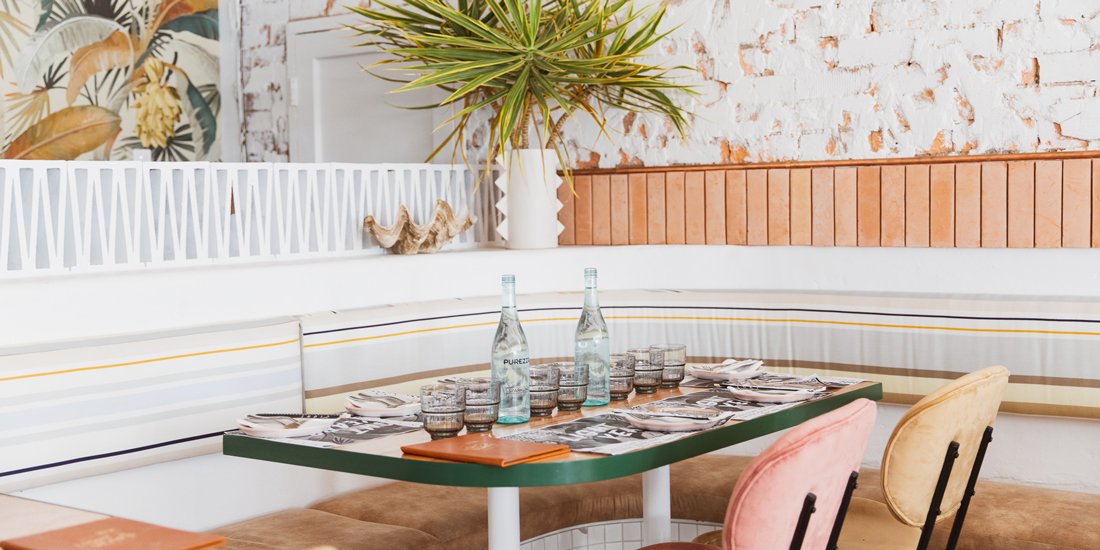 Here are our top 5 Burleigh hotspots with interiors to swoon over, delivering a feast for your eyes as well as your tummy!
We're lucky to have so many amazing places to dine and drink here on the Gold Coast, from Coolangatta to Helensvale there is SO much to love. As local Burleigh Heads builders, we may be biassed but Burleigh Heads is definitely home to our favourite venues… but it's not only the food we're crazy about. We're equally obsessed with some of the incredible interior fit outs our Burleigh venues have to offer!
Light Years
Lower Gold Coast Highway
We love pastels, and stylist/designer Jason Grant nailed this colourway when he delivered us Light Years Burleigh Heads. Light Years is a piece of art in itself, embracing the breeze block trend, accompanied with exposed brick, watercolour feathers across the walls and Byron Bay's Jai Vasicek's art adorning the interior. The interior makes us smile, with neon signs and velvet chairs, the feelgood vibes at Light Years shine out of every corner.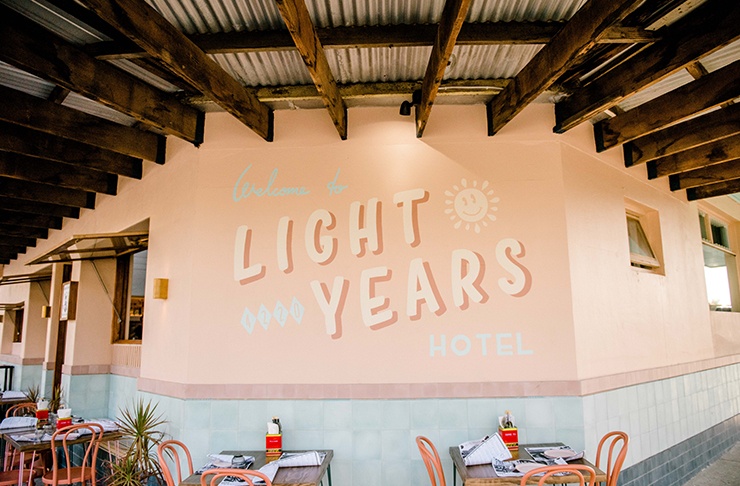 Maman
James Street
The moment you walk into Maman you feel like you're on a summer holiday in Europe. The restaurant's owners, Oli Frost and Matt Poole (along with chefs and Oli's mum and aunt, Karen and Elizabeth Fines) have done an amazing job of bringing the Mediterranean to Burleigh Heads, and we're impressed by the attention to detail throughout the restaurant.
In an alleyway framed by an arched entrance, Maman is all white with pops of colour, embracing coastal chic and sophistication.
Light and bright with wall-length murals and hand-painted ceramics by (again) well-known Byron Bay artist Jai Vasicek, we are in love with everything about this space.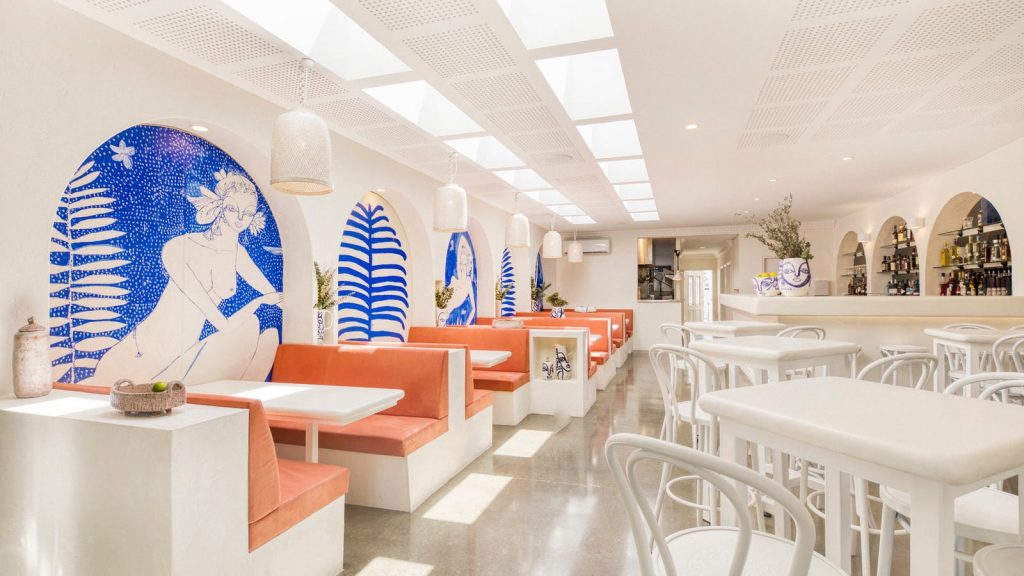 Labart
West Street
This space has come a long way since its days as a Chinese restaurant. It's fine dining, without the pretentious edge, beautifully reflected in its simply designed, yet sophisticated interior. Labart features an open plan kitchen, a stunning marble chef's pass and a charcoal grill that creates a spectacular view for front-row diners as the chefs create their culinary masterpieces.
We'd describe the Labart interior as the ultimate in European elegance, simple, yet sleek. It's decked out with polished concrete floors, deep green walls perfectly mingled with a soft tan leather banquette seat and timber tables.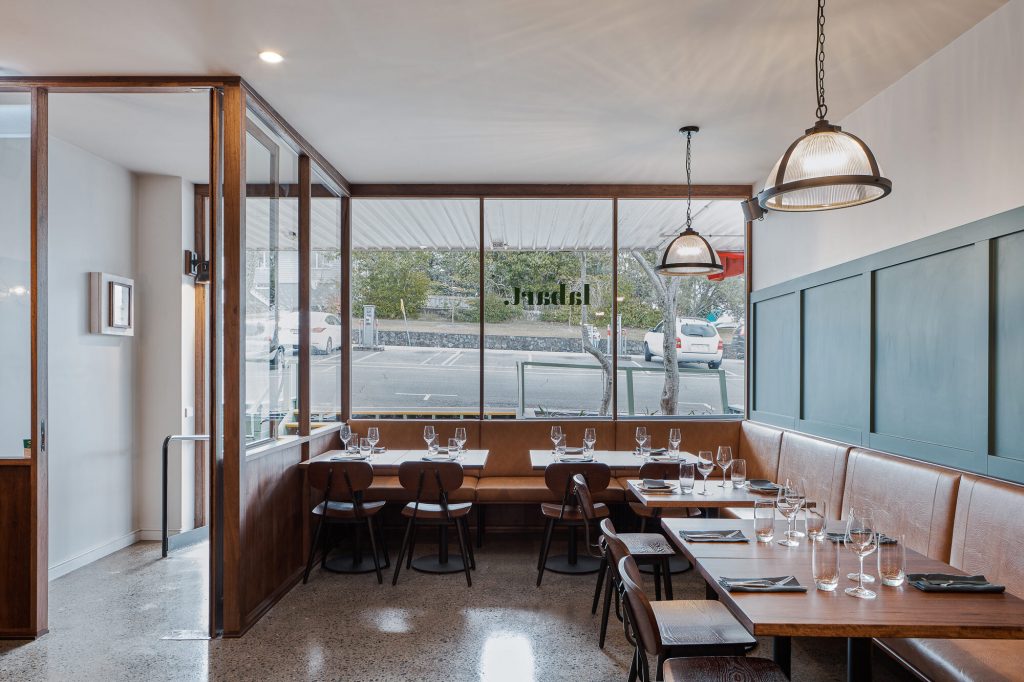 Hail Mary
James Street
Walking into Hail Mary, its interior has everything you'd expect from a popular Mexican bar and restaurant. Margaritas and cacti a plenty, fun hanging pendants, breezeblocks, groovy tiles, lush greenery… oh and a couple of rope swings of course.The brand new bar fit-out, by designer and shopfitter Owen Thompson, hits the mark and embraces Hail Mary's signature pink palette to perfection! As Owen puts it himself Hail Mary feels like "a Mexican dream, where it always feels like sunset" and he's not wrong!
The restaurant's design incorporates arches upon arches in forms of lavish curved booths, venetian plaster features and striking pink wall niches filled with LED strips and cacti! In all its glory, Hail Mary gives us whimsical holiday vibes and a strong desire for tequila! Oh and did we mention some of BEST So-Cal Mexican food on the Coast!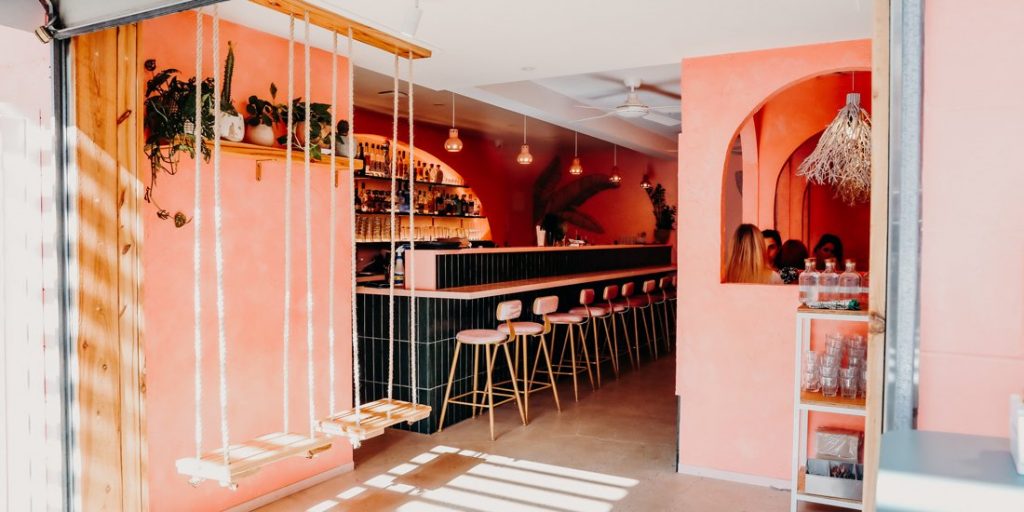 The Tropic
Goodwin Terrace
Another one of our favourite interiors is The Tropic on Burleigh Beach, next to the Burleigh Pavilion. Hotelier Ben May engaged Alexander & Co to capture memories of his childhood holidays in Burleigh Heads. The walls are bright white, with concrete floors with some eclectic feeling stone here and there adding to the cheerful aesthetic of The Tropic.
We love the mint green chairs next to the shades of rose radiating from the bar tiles, inside the cabinets and breeze blocks that fringe the restaurant's walkways. It's the little touches in The Tropic that bring the design together, like the gold wall sconces and potted plants scattered throughout the interior.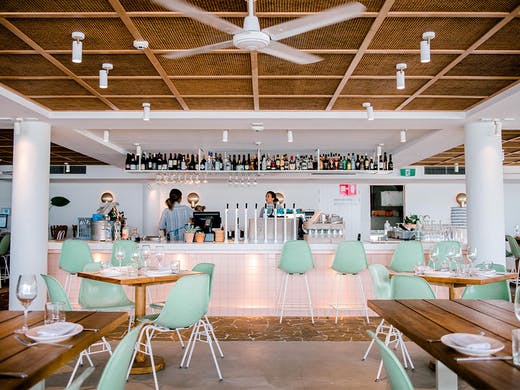 With so much inspiration on our doorstep it only makes us more excited to get our hands on more interiors and design your dream home here on the Gold Coast.
As well as new builds, at Davey Constructions we offer consultancy advice from our talented interior designer, Sarah. Let us help you tell your story through your home interior. Contact us today.