Our must-have features to spruce up your entertainment area!
Our must-have features to spruce up your entertainment area!
High End Renovations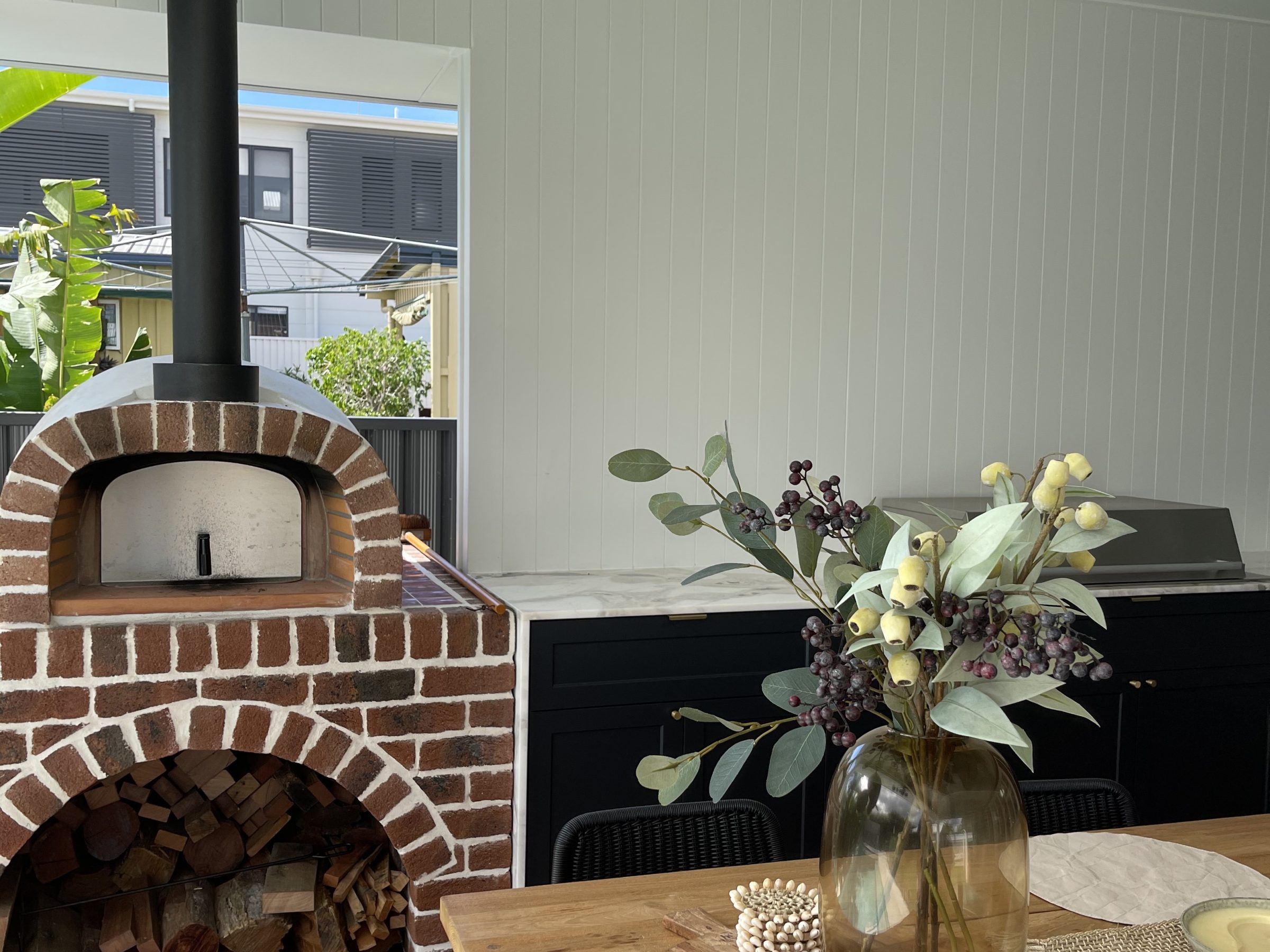 Thanks to the COVID-19 pandemic, the last two years have had us spending more time in our homes than ever before. Whilst the lockdowns have been challenging, this time at home has encouraged people to look at their homes with fresh eyes.
We are now seeing a surge in people searching for ways to transform their space to meet the needs of their lifestyle. As we cruise into the summer months as well as the holiday season fast approaching, we're reminded just how much time we enjoy spending entertaining friends and family. As Queenslanders, we love to BBQ and we love entertaining outdoors – it's a quintessential part of life in our sunshine state.
Our Davey Constructions family takes great pleasure hosting friends and family at our home and we are just as passionate in bringing your entertaining dreams into reality. To create the ideal space we love specifying designs where the indoors flows seamlessly into the outdoors, with open plan living spaces that increase connection and make entertaining easy.
To give you some inspiration, here are some amazing features to help you create the perfect setting for those weekend catch-ups!
Island bench
Entertaining always starts in the kitchen! It's where we meet, connect and cook up feasts for our family and friends. That's why an island bench is the perfect addition to any kitchen. Anyone that has had an island bench knows this area often becomes the hub of the home. When entertaining, it's not uncommon for people to congregate in the kitchen, talking with the cook and watching them whip up something special.
An island bench also serves as a multifunctional feature, providing extra storage, additional bench space and doubles as a kitchen table when you place a few stools underneath.
Bar area
While food is important to some people, there are others who love to have a drink or two to unwind. Over the past few years we've seen a growing trend in custom bars and think it's one that will stick around for a while! We are loving the addition of bar areas because they function in two ways. They create a functional entertainment station, allowing guests to help themselves to drinks (saving you those back and forth trips to the kitchen) and they sure are an epic looking feature that adds so much to the aesthetics of your home.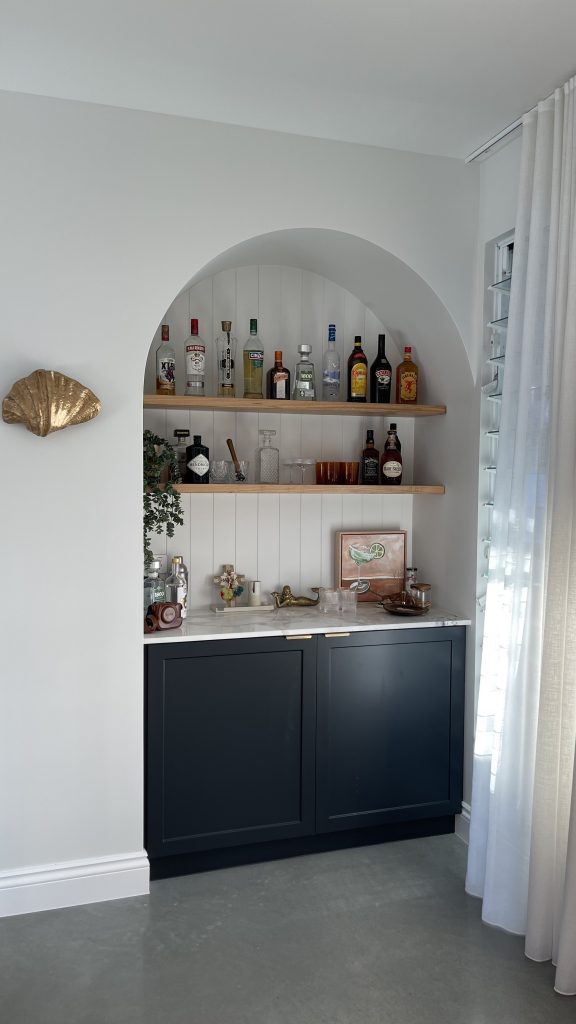 Outdoor kitchen
If you love to cook and host, an outdoor kitchen is probably already high on your list of entertaining priorities. Cooking in front of your guests and having everything you need to make a meal is a much superior alternative to slaving away alone in the kitchen.
There are so many options when designing an outdoor kitchen, the possibilities are truly endless. Some of the features we are loving outdoor kitchens at the moment include:
A stone pizza oven – While Australians love to barbecue, right now pizza ovens are a popular addition to outdoor kitchens. At Davey we've been taking pizza ovens that step further, specifying custom stone pizza ovens into our projects, a big hit for all our clients who love to entertain.
After installing a stone pizza oven in our own home, we can say that there's nothing quite like serving up a hot home-made woodfired pizza from your outdoor oven, directly to your guests. Trust us, pizza parties go down an absolute treat!
Beer and wine fridges – Once you install a beer or wine fridge, there's no going back. They are super handy and highly functional. We always recommend the Vintec Wine Fridge, which keeps your wine at the perfect temperature, ready to drink anytime!
Ice trough – We love the new ABI Ice Trough. These streamline troughs can be built into your benchtop and look absolutely fantastic! They give you an awesome place to access your food and drinks and keep them cold by filling it with ice throughout the day. The best part, you can even cover them when not in use, so you aren't missing out on an inch of precious bench space!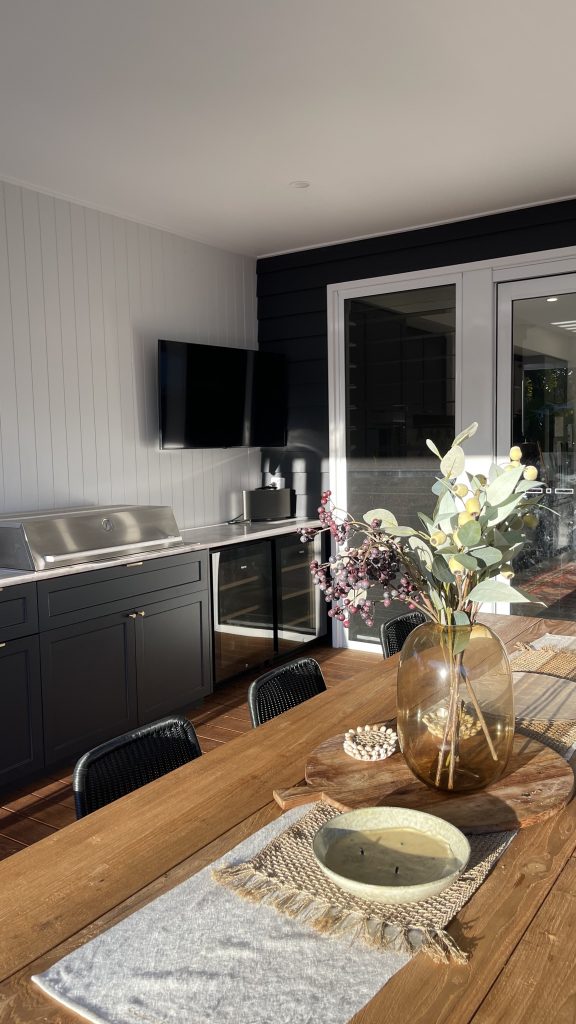 Swimming pools
Living in Queensland, swimming pools appeal to all ages! With our steaming hot summers, pools provide the perfect escape to cool off from the sweltering heat and provide hours of entertainment for the kids. Over the years we have specified some beautiful pool areas into our client's outdoor spaces, like the 70s inspired kidney shaped pool at The Kira House or the modern minimalist pool at our first Tallebudgera yourtown prize home.
These are just some of the ways to create an unforgettable entertainment area. When building with us we can help you plan the outdoor area that is best suited to YOU and your needs! Our in-house interior designer Sarah, is also on deck to assist you in ensuring the design of the space and selected products compliment the style and aesthetic of the rest of your home.
Thinking of rebuilding? Send us an email to admin@daveyconstructions.com and we will be more than happy to discuss with you the process of building your dream with Davey Constructions!