2020 Kitchen Interior Design Trends
TREND-SPOTTING through a Gold Coast Luxury Kitchen!
Interior Design
Step inside our latest Luxury Gold Coast home build, our Kincardine Project, in Benowa Waters!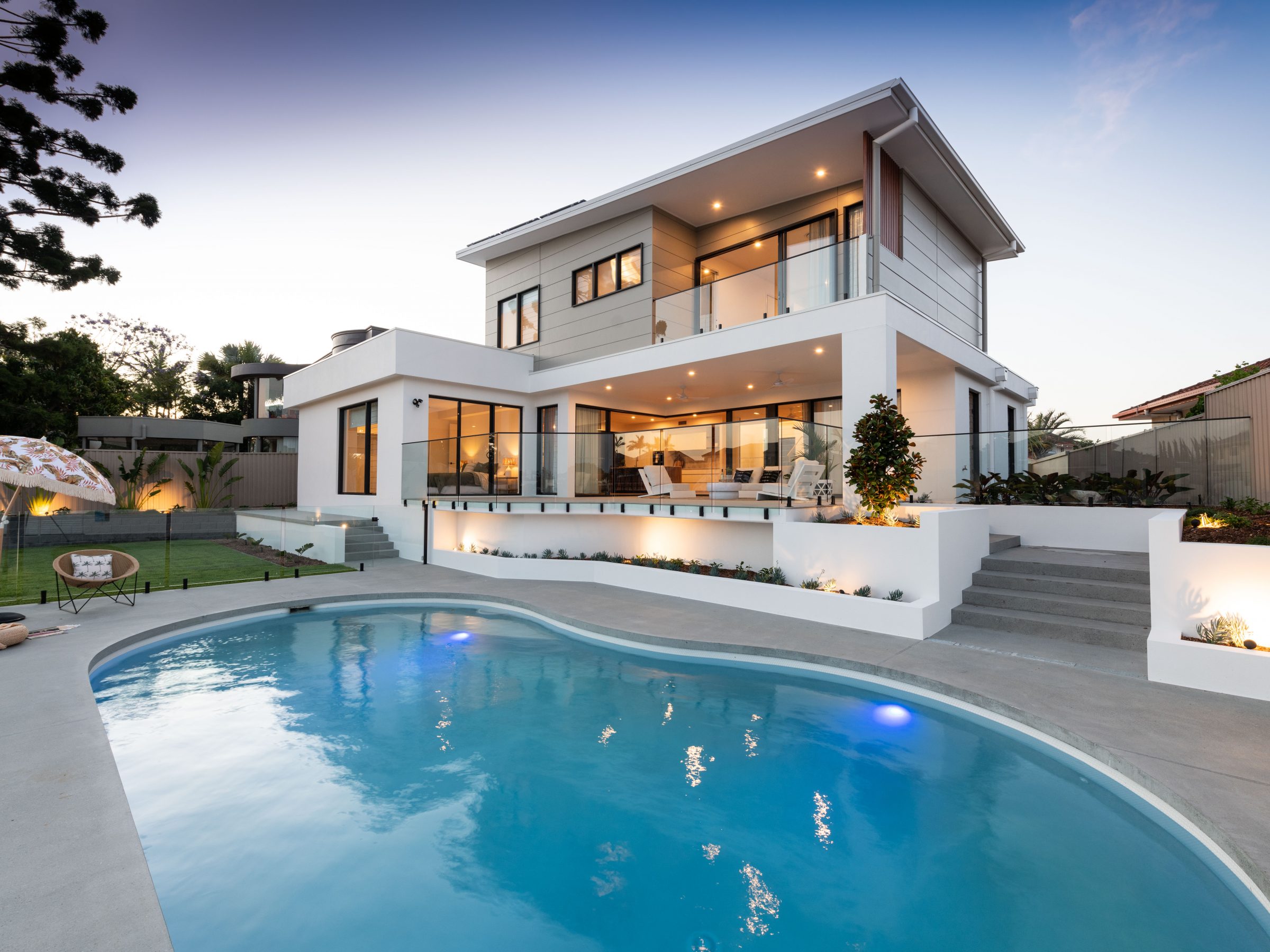 One of our favourite parts of building homes is creating dream kitchen spaces for our clients. As a Gold Coast Building & Interior Design Company, we strive to create highly functional and visually striking kitchens with great attention to detail! NOTHING beats a thoughtfully designed kitchen, with ample storage, space to move, superior appliances and quality finishes. 
We believe the kitchen is the heart of the home and a kitchen design that fits with your style, needs and desires to ensure we create YOUR ideal kitchen space. So when our Benowa Waters clients gave us their design brief for their kitchen: Vast storage space, big bench space and a luxurious coastal feel we went to work! Our in-house interior designer, Sarah invested the time to truly understand their needs, and wishes and provided our clients with a tailor-made kitchen design to last them a lifetime. Curves, timber features, terrazzo, luxurious limestone benchtops and integrated cabinetry are just some of the features incorporated into this stunning kitchen we designed for our Kincardine Project. 
Take a look as we break down some of the luxury Kitchen interior design trends of 2021, we incorporated when creating our clients' DREAM kitchen!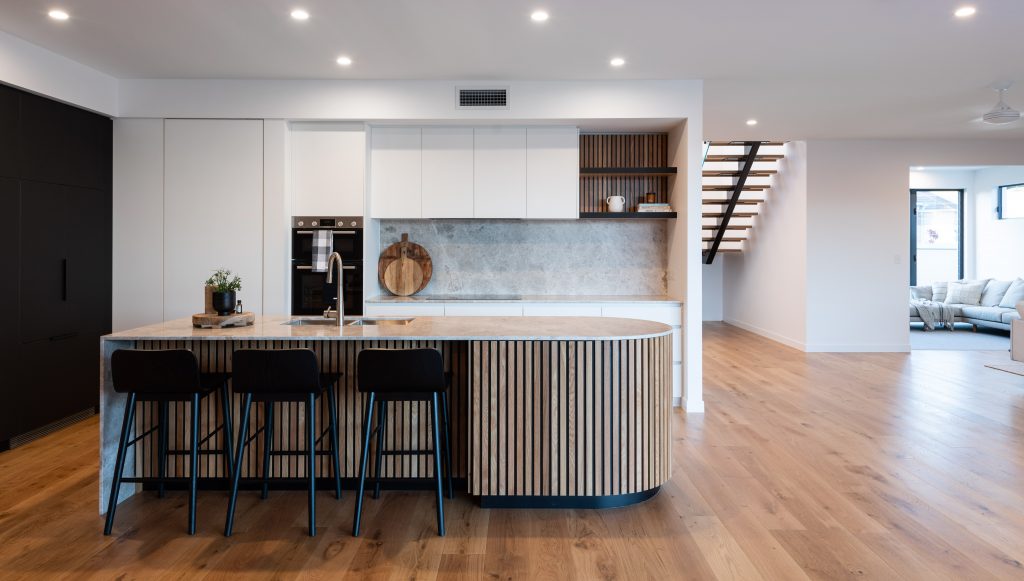 CURVES
Okay…let's talk about CURVES. We LOVE all things curved at the moment. This growing trend can be seen in cabinetry design, walls, alcoves, entryways, ceilings and windows, furniture, entrances to homes, pool shapes, the list is endless! There is something about the curve that not only creates a sense of softness to a space but a very fluid and organic flow which adds to the tranquillity within a room. You can find curves all the way through our Kincardine project from the formed concrete curvaceous swimming pool to the rounded mixers used in the bathrooms!
If you love curves make sure to check out The Kira House our 2019 project with Kira and Kira Store
BRUSHED NICKEL!
There is a growing trend with brushed nickel in the building industry and it really is becoming the new chrome or black for the modern home. You can find brushed nickel just about everywhere, from tapware, to door hardware, chair legs to robe hooks! We incorporated brushed nickel throughout our Kincardine project in the means of brushed nickel tapware in the kitchen, bathrooms and subtly throughout the home. The brushed nickel adds an extra layer of luxury to this space and ties in harmoniously to tile and stone selections. The matt finish to the tapware we chose is perfectly suited to the modern feel of the home, but can also translate into a more traditional Hamptons or Coastal style home too!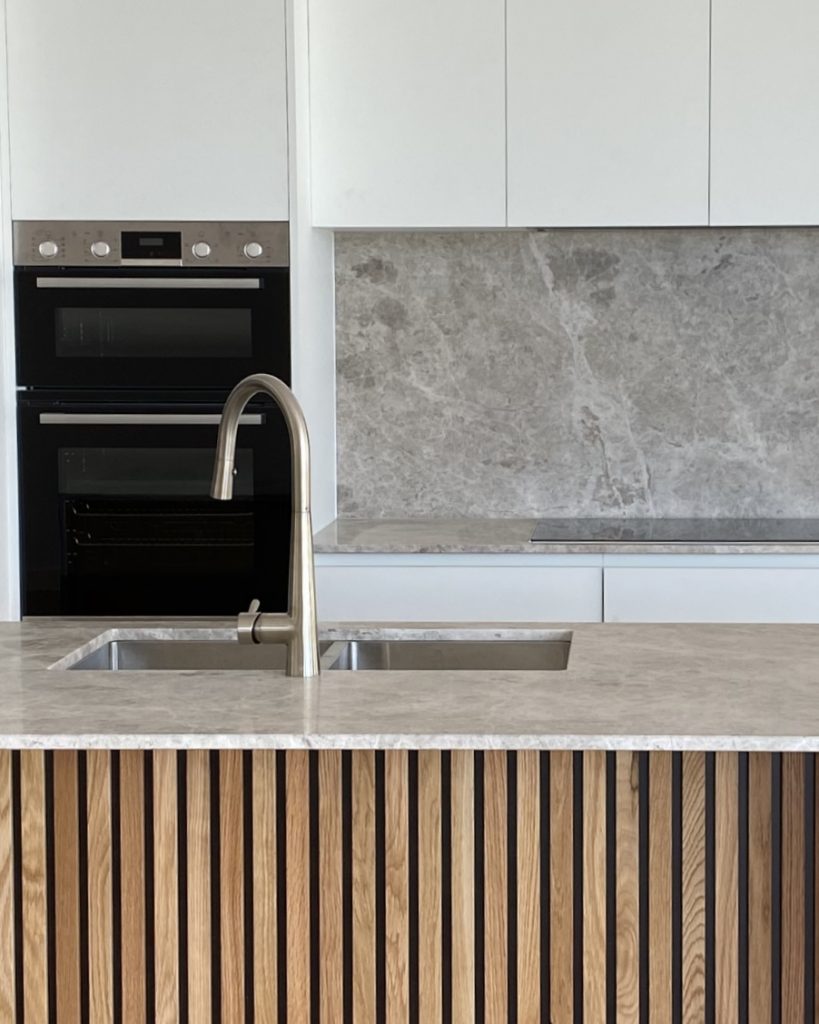 CUSTOM CABINETRY
Look no further than custom cabinetry for your ideal kitchen. Create a kitchen that is completely tailored to you; how you cook, how you clean, how you utilise the space. Kitchen design is vital when creating a space that is perfect for you. You can customise so much in a kitchen such as height or depths of cupboards, quantity of draws, how many stovetops or sinks you need, what kinds of appliances you have/ need to make space for… The customisation is endless and SO exciting!
In our Benowa Waters project, our clients opted for integrated appliances, a large island bench, extensive storage space, a double sink and our favourite, the butlers pantry. All integrated appliances, cupboards and draws were designed handless for the clean and sophisticated look our clients desired. The legends over at Border Joinery ensured all of this came to life with the highest quality of workmanship! Scared about selecting materials, not a worry. Sarah will present an array of material, colour and style selections for you and design 3D renders to make your choice as easy and visual as can be!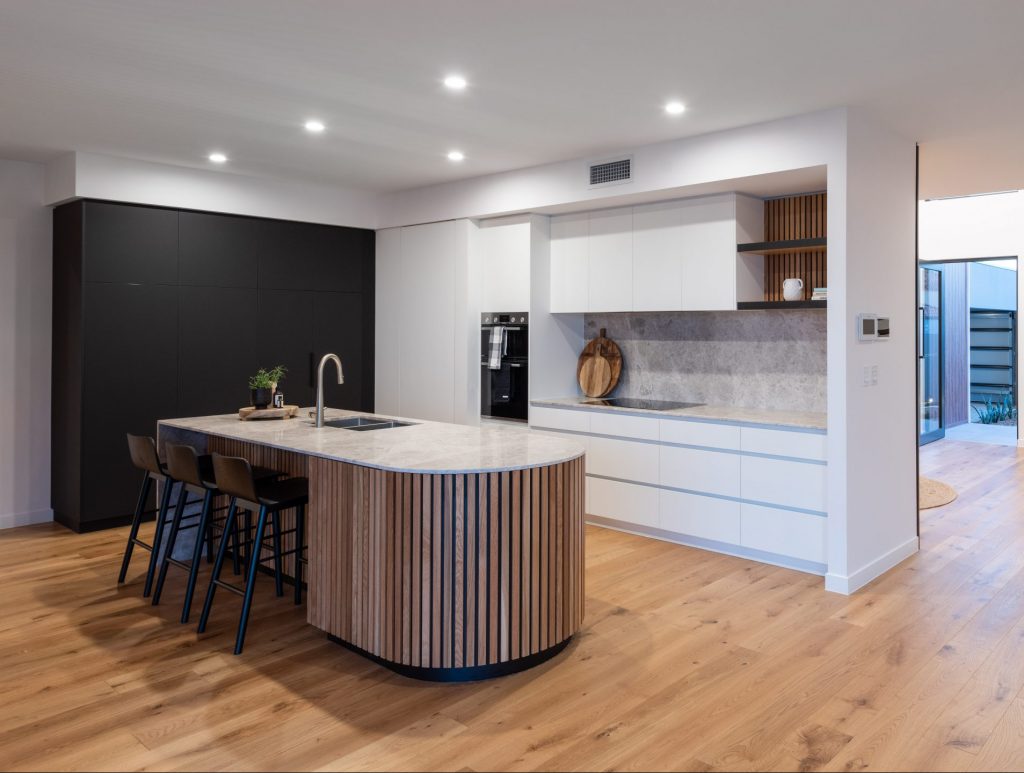 REPETITION, REPETITION, REPETITION 
One of the fundamental elements of Interior Design is repetition. This can be the repetition of colour, shape, materials etc to give a home a cohesive feel. With this in mind we selected the same timber batten cladding on front of the curved kitchen island bench and open cabinetry that we used in the foyer area! The texture and warmth the timber provides completes the space and really gives it that 'wow' factor. Together with the recurring timber element, curves are also repeated throughout this Luxury Gold Coast home. Curves in the form of effortless arched mirrors, round sconce lights, the formed concrete pool and round plumbing and door fixtures feature throughout.
Click HERE to checkout more photos from our Kincardine Project!